Kuan-Nien Chen, PhD, Professor/ Director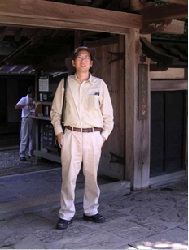 ● Teaching Courses
Undergraduate school:
1. Management
2. Analysis of Consumers' Behavior
3. Project on Fragrance and Cosmetics and Practice
4. Marketing Management
5. Consumers' Psychology
6. Case Study of Marketing Management

Postgraduate school:
1. Special Topics on Medical Human Resource Management (Dept. of Pharmacy)
● The Highest Education Degree
Ph.D., University of New South Wales, Australia

● Personal Experiences
2011-present, Professor, Department of Fragrance and Cosmetic Science, Kaohsiung Medical University
2007-2011, Associate Professor, Department of Fragrance and Cosmetic Science, Kaohsiung Medical University
2002-2007, Lecturer, Center for General Education, Kaohsiung Medical University
● E-mail
wc@kmu.edu.tw
● TEL:07-3121101 ext.2622
FAX:07-3210683
● Research Area
Organizational learning, Marketing strategies, Library evaluation
●Recent Publications
1. Sun, Hao-chang and Chen, Kuan-nien* (2012), A proposed model for library stacks management. Library Collections, Acquisitions, and Technical Services, 36(1-2): 24-29.
2. Chen, Kuan-nien, and Huang, In-ting (2012), Library use by medical students engaging in problem-based learning: A Taiwanese case study. Libri, 62(3): 248-258.
3. Chen, Kuan-nien (2013), Dynamic subject numbers replace traditional classification numbers. Knowledge Organization, 40(3): 160-168.
4. Yang, Li-chun, and Chen, Kuan-nien* (2015), The impact of visual and olfactory senses on purchase intentions for scented products. International Journal of Market Research, 57(1): 125-144.
5. Lin, Hsin-tung, Chen, Guo-hsung, Yen, Fong-lin and Chen, Kuan-nien* (2016) Objective and self-perceived facial skin status using whitening efficacy of cosmetic products on Taiwanese women. Journal of Cosmetics, Dermatological Sciences and Applications, 6: 117-123.